Sunday 12th June 2016 

Visual Noise Arts Centre, Blackpool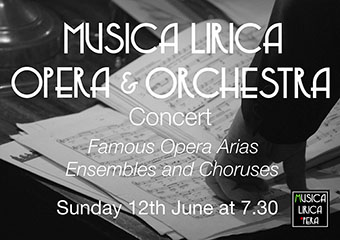 7.30pm Tickets available on the door
£8 under 16s free on the door.
Visual Noise Arts Centre, 19, Preston Old Road, Blackpool FY3 9PR
——————————————————————————-
Saturday 2nd April Concert St Michael's Church, Croston
An evening of Popular Opera and Musical Theatre with members of Musica Lirica Opera accompanied at the piano by Michael Hall Music by Andrew Lloyd Webber, Arthur Sullivan, Edward German, Franz Lehar, W A Mozart, Giuseppe Verdi, etc.
7.30pm tickets on the door
St Michael's and All Angels, Church Road, Croston, PR26 9HA
——————————————————————————-
Sunday 3rd April Viennese Concert The White Church, Lytham
Musica Lirica Opera welcomes 2016 with a concert of the ever popular music of old Vienna. The Waltz King, Johan Strauss jr, and Franz Lehar featuring prominently.

——————————————————————————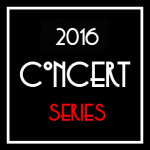 Musica Lirica Concert Series 2016
Members of Musica Lirica Opera perform extracts of opera by Popular Composers accompanied at the piano by Michael Hall: Verdi, Puccini, Mozart, etc. including: Madam Butterfly, La Traviata, The Marriage of Figaro, Il Trovatore, etc
All concerts at £7.30pm tickets on door
Saturday 23rd April Victoria Congregational Church, Blackpool
Victoria Congregational Church
42A Newton Drive Blackpool FY3 8BY
Sunday 24th April The White Church, Lytham
Fairhaven United Reformed Church
22A Clifton Drive
Lytham St Anne's FY8 1AX
Thursday 28th April 

St Wulstan's, Fleetwood
St Wulstan's RC Church
Poulton Road
Fleetwood, FY7 7JY
Saturday 7th May

St Andrew's, Cleveleys
St Andrew's C of E Church
Rough Lea Road
Thornton/Cleveleys, FY5 1DP
Sunday 8th May

St Michael's, Grimsargh
St Michael's C of E Church
Preston Road
Grimsargh
Preston PR2 5SD